Worry-free Weeknight (or Ski Day) Recipes
There are few things more comforting during the colder months than a hearty soup simmering on the stove or a casserole baking in the oven. Here are some tried-and-true dishes featuring simple and delicious roast chicken. Both can be made ahead or made in a slow cooker to nourish tired skiers after a day on the Mesa. Returning from the slopes to amazing aromas and dinner done — what could be better?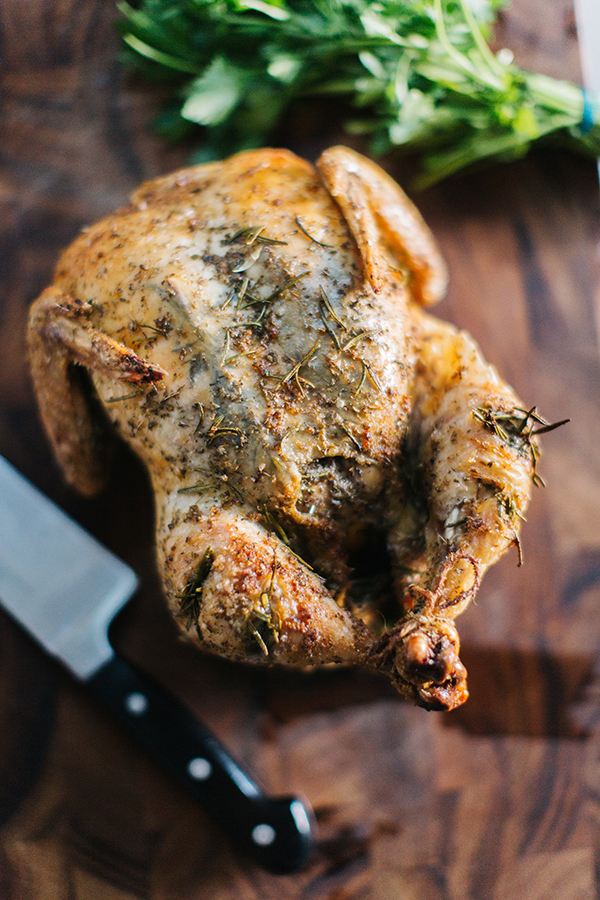 Whole, local chickens are available in Rooted Gypsy farm boxes and from Gray Acres Farm in Paonia. Whole organic chickens can also be found at City Market/King Soopers.
1 whole chicken (4-6 pounds)
3 Tbs extra virgin olive oil, divided
1½ tsp salt, divided (try Real Salt's Ancient Kosher Salt, available at Natural Grocers)
½ tsp garlic powder
¼ tsp dried oregano (or ½ tsp fresh, chopped)
¼ tsp dried rosemary (or ½ tsp fresh, chopped)
1 lemon, halved
1 head garlic cloves, smashed with a knife (skins can be left on)
1 bay leaf
1 small bunch fresh flat-leaf parsley
Sweet potatoes, beets, and onion, peeled and halved (optional)
1. Preheat the oven and your roasting pan to 375°. Remove the giblets, rinse the bird inside and out, and pat it dry with paper towels.
2. Combine 2 Tbs oil, 1 tsp salt, garlic powder, oregano, and rosemary in a small bowl. Use your fingers to gently separate the skin from the chicken breasts, being careful not to tear it. Rub half of the oil-herb mixture between the skin and the meat, and half of it on the outside of the bird. (You can also make slits in the thighs and rub in the oil-herb mixture. This helps the thighs roast more evenly with the breasts.)
3. Rub the cavity of the chicken with the remaining oil and salt. Then stuff it with the lemon, garlic cloves, bay leaf, and parsley. Tie the legs together with baking twine. The seasoned chicken can be left to rest in the refrigerator for up to 24 hours before cooking.
4. If using the root vegetables, place them in the pan under the chicken. Roast the bird, breast side up, at 375°F for about 1½ hours. Your chicken is ready when a thermometer inserted into the thigh (without touching the thigh bone) reads 160° and the juices run clear.
5. Let the chicken rest until it is cool enough to handle. Remove the meat from the chicken, discarding the skin. Save the carcass for chicken stock.
Slow Cooker Chicken Stock
(courtesy of Rooted Gypsy Farms)
1 chicken carcass
2 onions, peeled and roughly chopped
2 carrots, roughly chopped
4 celery stalks, roughly chopped
2 bay leaves
salt, to taste
1. Place all ingredients in a slow cooker. Cover with water, and cook for 8-12 hours on low heat.
2. Strain and or use immediately, or cool for future use. The stock can be refrigerated for up to one week or frozen for up to three months.
This is great for nights when you have guests, as it can feed a crowd. It also makes a tasty vegetarian meal — just leave out the chicken.
2 Tbs extra virgin olive oil
1 yellow onion, chopped
4 garlic cloves, pressed or finely chopped
2 tsp cumin
Meat from half of a roast chicken (skin removed), shredded
1 15-oz can black beans, drained
1 10-oz bag frozen, cubed sweet potatoes or butternut squash (or 2 sweet potatoes, roasted, skinned, and roughly mashed)
2 4-oz cans mild diced green chiles (or diced fresh chiles from Okagawa Farms)
½ cup cilantro, plus more for serving
2 handfuls fresh spinach
2 16-oz jars Hatch Valley 505 Southwestern Mild Green Chile Sauce (or your favorite enchilada sauce)
8 corn tortillas, torn into pieces (try Sombrerito brand, made in Olathe and available at City Market)
2 cups shredded cheddar or Monterey Jack cheese
1 bunch of green onions, chopped
Sour cream or plain Greek yogurt
1. In a saucepan, heat the olive oil over medium heat. Add the yellow onion to the pot and cook until softened. Add the garlic and cumin, stirring for 1 minute. Turn the heat to low and add the chicken, beans, sweet potatoes, green chiles, and cilantro. Stir to combine. Add the spinach, stirring constantly until it wilts. Turn off the heat, and stir in one jar of the sauce.
2. In a lasagna pan or slow cooker, pour enough sauce to coat the bottom. Add a layer of tortilla pieces, a thick layer of the chicken and bean filling, and top with a layer of cheese. Repeat the layers until the filling is gone. Top the casserole with the remaining sauce. (At this point the casserole can be stored in the refrigerator for up to three days or in the freezer for up to three months.)
3. Bake at 350° until bubbly, about 30 minutes (1 hour 15 minutes from frozen). If you're slow cooking, cover and cook on low for 4-6 hours.
4. To serve, top with chopped green onion, cilantro, and sour cream or yogurt.
Chicken Soup with Kale & Carrots
This protein-packed soup is both comforting and healthy — the perfect way to warm up on a chilly winter night.
2 Tbs extra virgin olive oil, plus more for serving
1 celery stalk, chopped
1 large leek, washed and chopped (include the dark green part)
3 large carrots, peeled and chopped
1 yellow onion, chopped
Leaves from 2 sprigs of thyme (or ½ tsp dried)
½ tsp course sea salt
32 oz organic chicken stock or bone broth
Meat from half of a roast chicken (skin removed), shredded
1 bay leaf
1 bunch of kale, chopped (or one 10-oz bag of frozen,
chopped kale)
Freshly ground black pepper
Grated Parmesan cheese
1. Combine the olive oil, celery, leek, carrots, onion,
thyme, and sea salt in a large soup pot, stirring over medium heat until the vegetables soften, about
10 minutes.
2. Add the chicken stock, chicken, and bay leaf.
3. Bring the soup to a boil over high heat, then lower the
heat and simmer, covered, for about an hour. (If slow cooking, combine all ingredients in the slow cooker,
cover, and cook on low for 4-6 hours.)
4. When ready to eat, add the kale and simmer another 15 minutes. Season to taste with salt and pepper.
5. To serve, remove the bay leaf, spoon into bowls, and
finish with a spoonful of Parmesan and a drizzle of
olive oil. Mop it all up with crusty bread.