SPOKE+BLOSSOM helps business partners reach prospective customers who live the western Colorado lifestyle year-round, and those who wish to experience the best of it when they visit. Through quarterly print issues, online content, social media posts, and eNewsletters, S+B helps businesses expand their brand awareness in Colorado, and grow their customer base.
Next ad ARTWORK + payment deadline:
November 1, 2019
Next issue/release:
Winter 2019/Thanksgiving
For general information about advertising, or to get in touch with S+B's advertising manager, complete and submit the online form here.
Where do we distribute S+B?
We are growing with every issue.
HOW TO ADVERTISE IN SPOKE+BLOSSOM
STEP 1: REVIEW ad rates + Planned Stories
Due August 9th for the upcoming Fall/September issue.
STEP 2: Reserve ad Placement
Let us know the size and frequency of the ad you would like to place by completing your ad reservation below.
Or if you have questions, email ads@spokeandblossom.com.
STEP 3: SUBMIT AD ARTWORK
Please review this Advertising Spec Sheet for sizing instructions for your ad.
To email your ad to S+B, click the button below.
We are happy to design an ad for first-time advertisers, gratis. After your first ad, changes to existing ads or design of new ads is billed at $85/hour.
Our readers shop, eat, and drink local. They love Western Colorado as much as you do.
Showcase your most giftable products and services for them in our 2019 Holiday Gift Guide.
Distributing at Thanksgiving time, our winter issue marks the beginning of holiday shopping season on the Western Slope.
Reserve your spot in our gift guide today! Space is limited.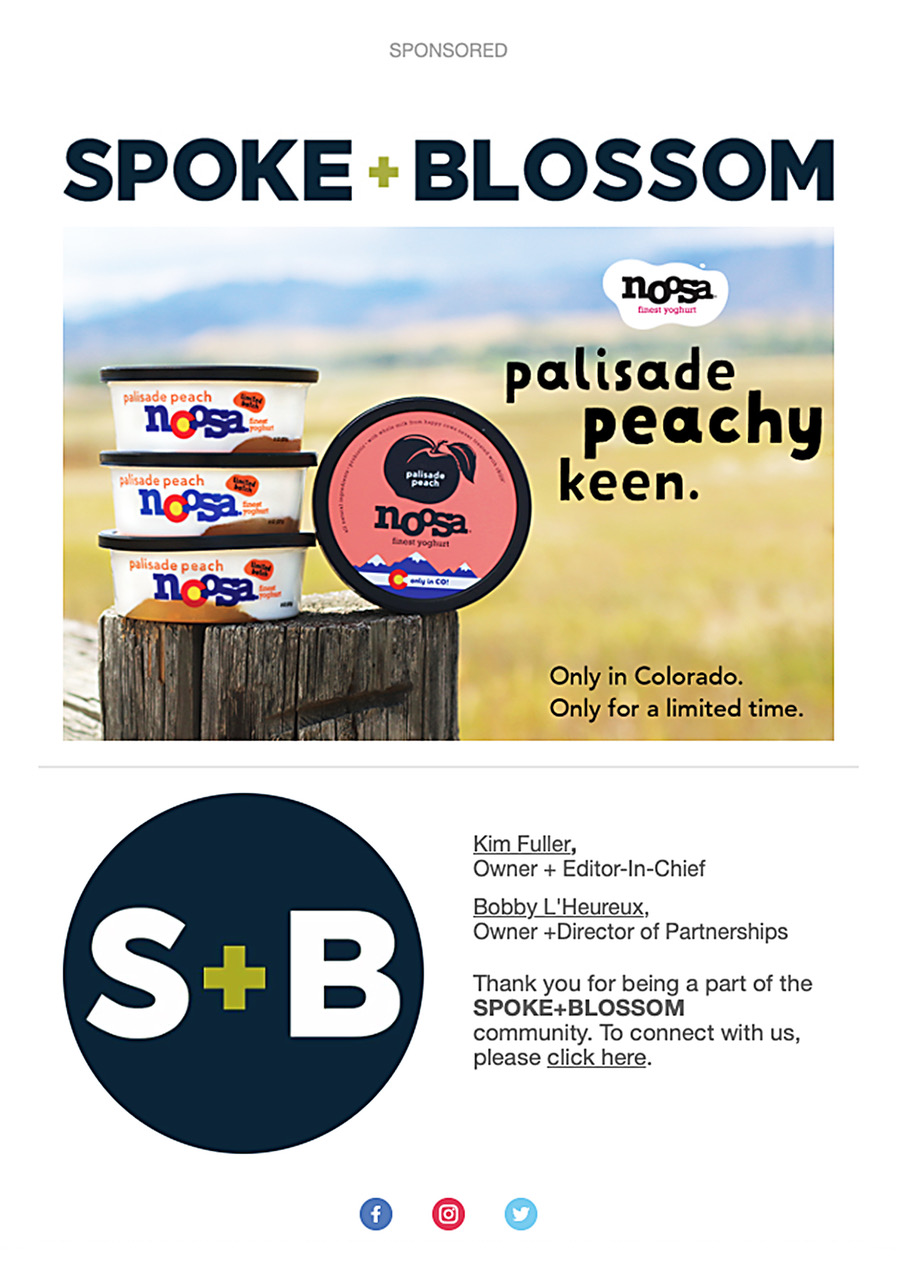 Sponsor an Email Newsletter
Make your business or event stand out to readers through the SPOKE+BLOSSOM Weekly Email Newsletters!
We send out two Email Newsletters per week to a growing email list of over 1,400 targeted email subscribers in Western Colorado + beyond!
• Monday PARTIALLY SPONSORED NEWSLETTERS are $100 for a sponsored inclusion of your business, event, offering or announcement surrounded by great SPOKE+BLOSSOM articles.
• Thursday FULLY SPONSORED NEWSLETTERS are $250
and are fully dedicated to your business, event, offering or announcement.
TO CREATE THE PROMOTION, PLEASE SEND US A DESIGN OR WE CAN HELP PUT A NEWSLETTER TOGETHER FOR YOU ONCE YOU PROVIDE SOME DETAILS AND IMAGES.
*EXAMPLES CAN BE SENT UPON REQUEST.

Reserve a Newsletter Today! First come, first served.